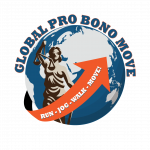 Your registration/donation has been successful.
Thank you for your donation to support the Global Pro Bono Move 2020. The BABSEACLE team greatly appreciates your generosity. The proceeds of your donation will support critical justice issues magnified by the COVID-19 pandemic.
Together let's virtually move around the globe. We know we can achieve greater access to justice with all of us moving together.
Track your KM on the Strava App, sign in or sign up then follow this link https://www.strava.com/clubs/globalprobonomove to the Global Pro Bono Move (ment) 2020 Strava Club and click on the JOIN button.